New Prisoner Series?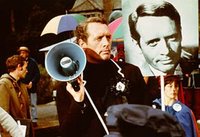 Hmm... not sure if
this
is a good idea or not. Remaking one of the
seminal 60s Brit series
is a tricky proposition. The original is so linked with Patrick McGoohan, who not only starred but also wrote and directed several episodes, hat it might be difficult for a new actor to establish himself in the role.
Still, the original
Prisoner
was a long time ago, and many younger viewers won't have any familiarity with the source material, meaning the show could do well with the
Lost
crowd. Plus, Christopher Eccleston is an interesting actor.
I'll be keeping my eyes open for this series. It's going to be a six-parter, scheduled to air next Spring.